At Era Pro Bike we always seek out the highest quality, the superior reputation and the brands that are exclusive and represent the top echelon of cycling products.  In Casati we have found a jewel in the road bike market.  Casati is now third generation and was founded in 1920.  They still build 100% of their steel and carbon road frames in the small shop in Monza.  The workmanship is exquisite. The attention to detail is perfect.  The finish and paint work is second to no one.  Today Luca and Massimo Casati still build frames in the time honored fashion where quality is first and quantity is not even a thought.  If you need a custom road bike then Casati and Tommasini should be at the top of your list.  Both brands can build custom quickly and affordably.  Italian custom road bikes are the ultimate and the ride performance is superior and no compromise is made for the fit.  Come in today to see us for a fitting and a consultation.
Casati range
Casati road bikes are made in either steel or carbon.  The range is divided into 3 families; Classic Steel, Modern Fillet Braze Steel and Carbon
Campionissimo
Back to the future with Campionissimo, a modern version of a style of the 70s.  Small diameter tubes, flat fork crown, Inox Storia treatment of head lugs and seat lug all in a magnificent riding bicycle.  One ride and you will remember the joyous days of freedom and the smooth quiet ride of steel.  Campionissimo is a beauty and a jewel that dares to be ridden hard and it will not disappoint.  Quick reative steering, solid handling and fast descending and all day comfort are ride characteristics all bicycles strive and few accomplish as well as Campionissimo.  If you long for a bicycle from the past look no further than this gorgeous Casati.
Frameset Price  $2595  Complete bike with Campagnolo Chorus kit  $4995  call 717 560 9000 for details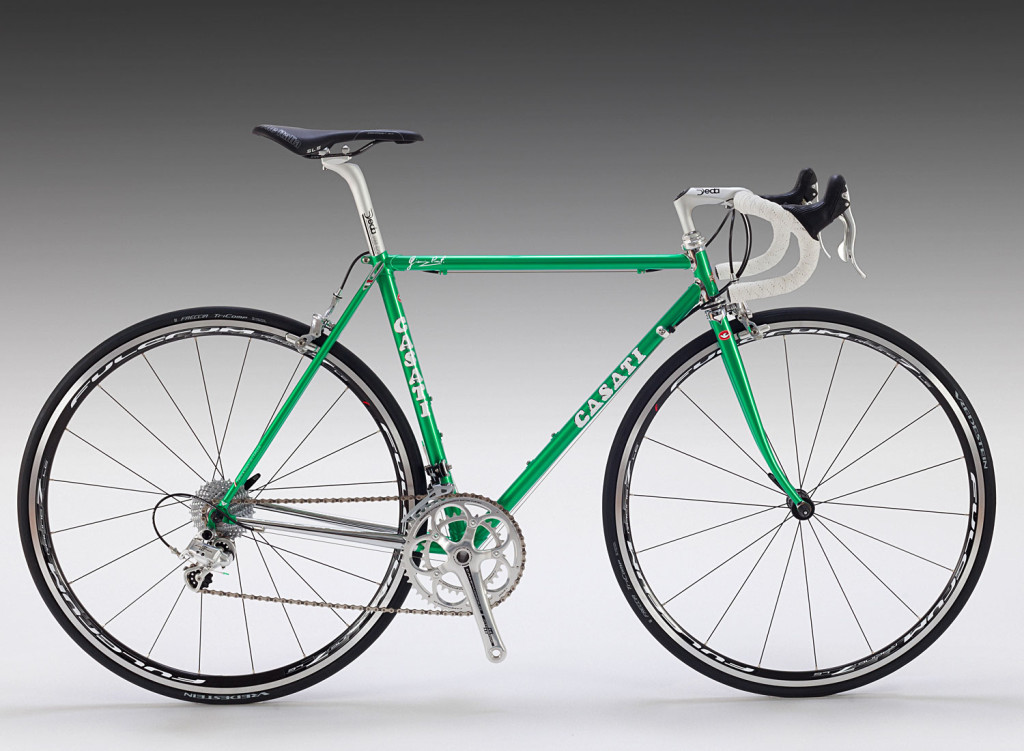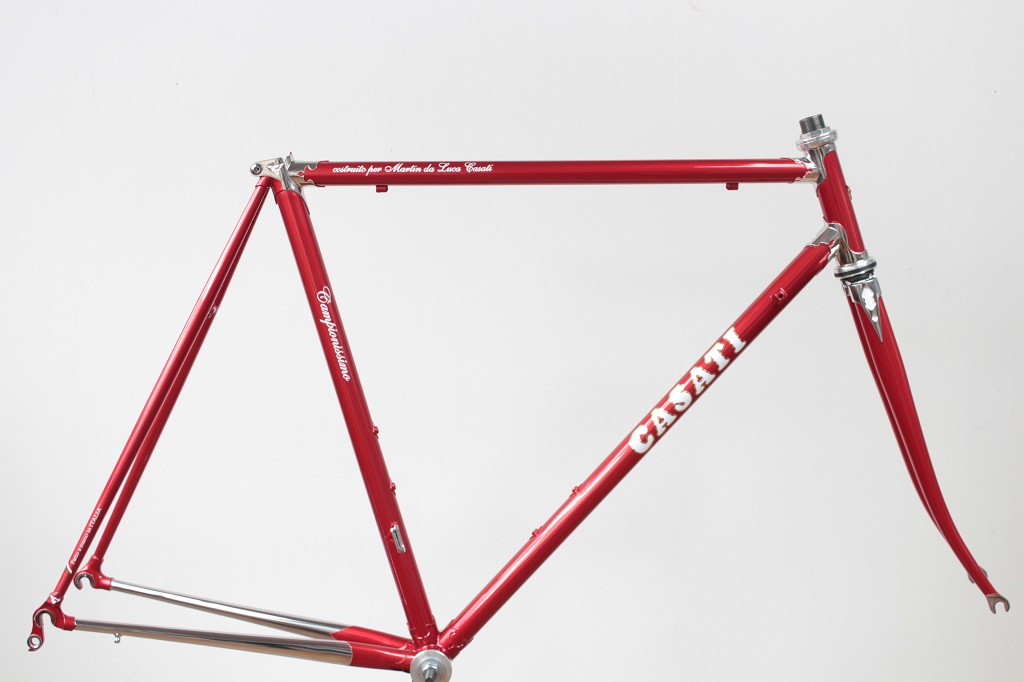 Linea Oro
Linea Oro is the traditional steel frame from Casati and has been a mainstay in the range for many years.  Columbus SL tubing is used in the classic lug style of the 80s.  Low profile head lugs are chrome finished as well as the sloping fork crown.  The seatstays have a finely finished split at the seat lug and just the right amount of Casati treatments to make a strong and distinctive look that is pure Casati.  The ride is impeccable.  Columbus SL is strong and with the perfect amount of flex to manage performance as well as comfort.  Casati geometry makes the Linea Oro a graceful bike and with perfect manners.
Frameset Price  $2395  Complete bike with Campagnolo Athena kit  $4395  call 717 560 9000 for details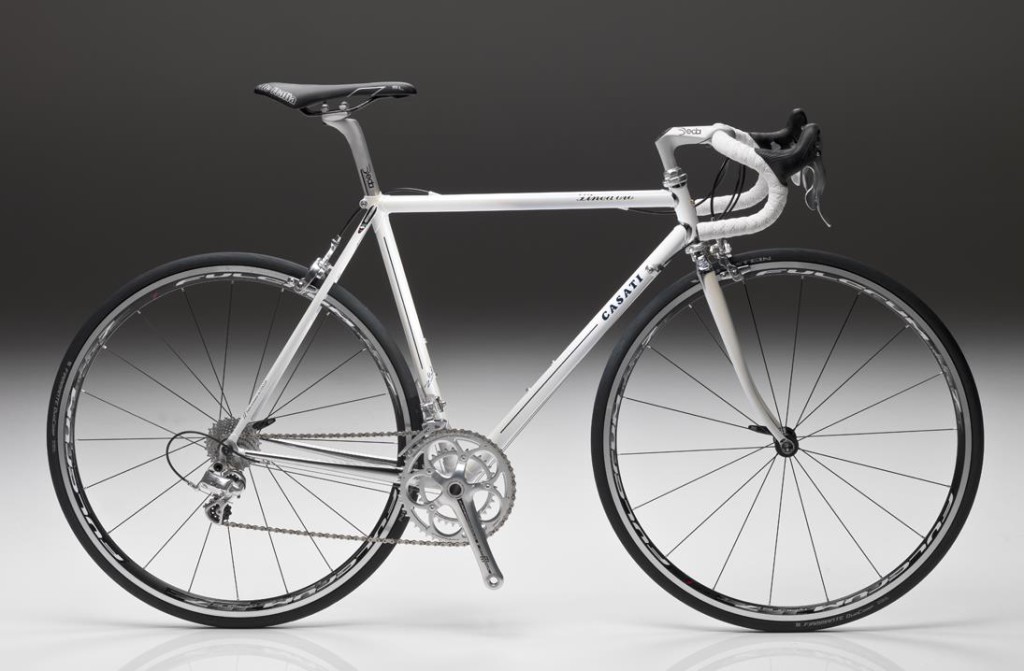 Monza
Pure Steel, Pure Italian, Pure handcrafted the Casati Monza is affordable bike built with the same quality and attention to the details as the higher range models.  You will be challenged to find an artisan handcrafted lugged steel frame at the value price of $1695.  Luca and Massimo build these one at a time using Columbus Zona tubing with lugs and brazed with silver solder.  The frame features a1″ steel fork for the best match of performance to the frame.  Now for less than $3000 you can ride a hand built steel frame with Campagnolo Athena 11 spd kit.
Frameset price  $1695  Complete bike with Campagnolo Athena kit  $2995  call 717 560 9000 for details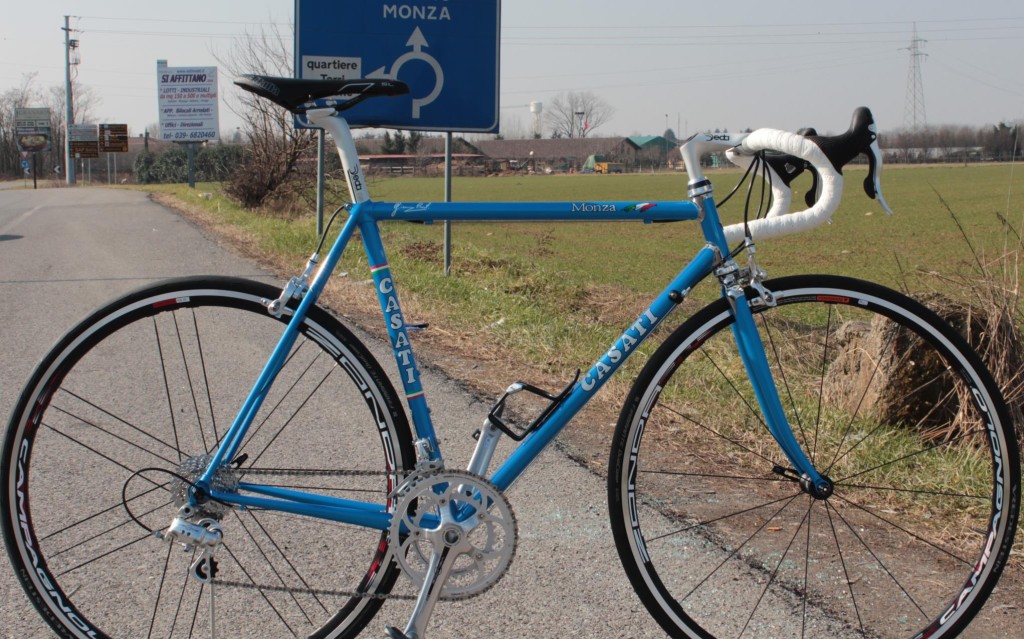 Espresso
Now a classic by Casati is the Espresso. All the performance of the finest carbon and titanium bicycles but in tried and proven steel. Columbus supplies their top range Spirit for the Espresso. Spirit is superlight with the perfect blend of rigidity and compliance. Then the Spirit tubing is carefully mitered, tack welded and fillet brazed to perfection. After brazing the joints are painstakingly filed, sanded and polished to an ultra smooth finish. The tubes seamlessly blend into each other and this is where the Casati brothers showcase their work. The ride is even better than the looks as Espresso has a sprint lovers acceleration and climbs with ease. Descending and cornering is a joy as the cyclist feels like one with the bike and the mild mannered handling is an attribute of the material, the workmanship and the famous Casati geometry. Espresso is like magic; an intriguing blend of art and machine. Espresso has a new version; the RS that incorporates a more rigid front end with 1 1/8″ x 1 1/2″ head tube and a new tapered fork.
Frameset price  $2995  Complete bike price with Campagnolo Record kit  $6495  call 717 560 9000 for details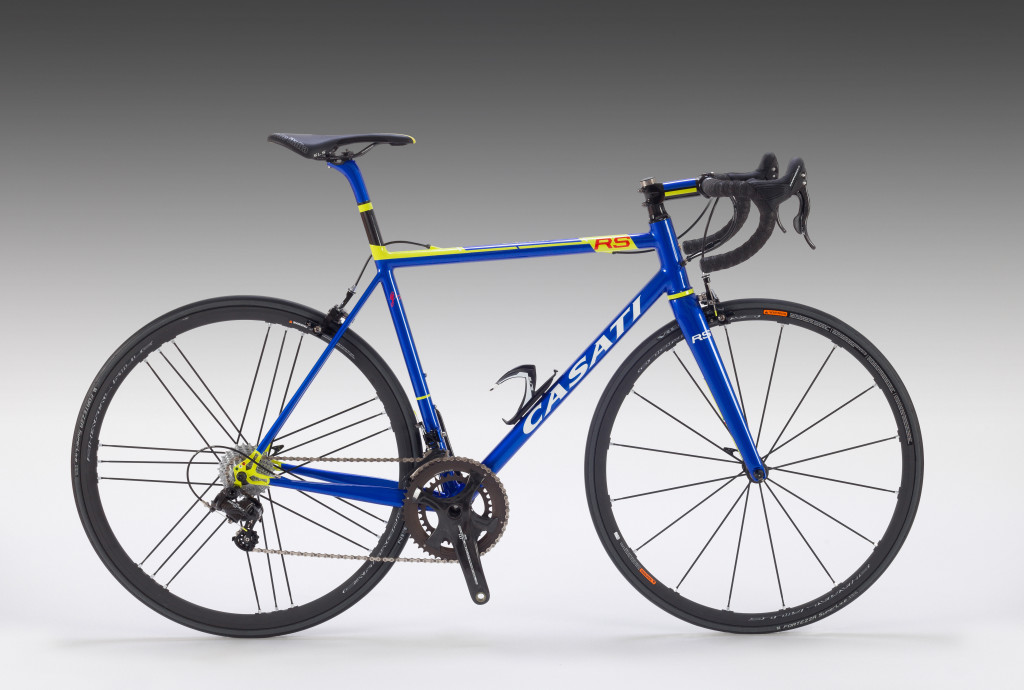 Lazer
The Laser model maybe the best value high performance steel frame on the market.  Using the same Spirit tubing as the Espresso and the same fillet braze construction the Laser shares many of the same ride characteristics but at a more affordale price.  Savings are in the fork and the drop outs.  The Lazer is perfect for racing, Gran Fondo or long century rides.
Frameset Price  $2395  Complete bike price with Campagnolo Chorus kit  $4795  call 717 560 9000 for details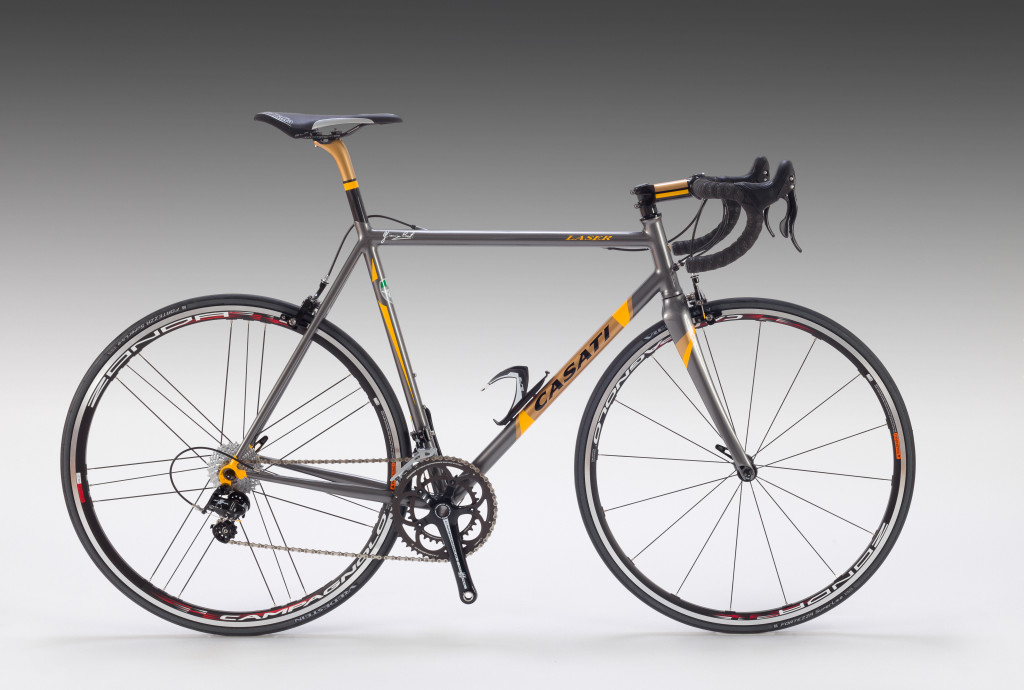 Inox Stainless Steel 
Stainless steel is an amazing material for bicycle frames.  It is light,, durable, has outstanding performance, very comfortable and does not corrode.  The Casati Inox outperforms titanium bikes, has longer life than carbon and has all the attributes of superlight steel.  Casati builds the Inox in a proven but labor intensive method, fillet braze.  They even go a step further by using 40% silver solder.  In this way the tubing is not compromized by too much heat.  We have build Inox bicycles in the sub 15 lb. range and the bicycle performs flawlessly.  Inox is a super quiet ride without the creaking and popping of poorly made carbon bike and has a superior road feel.  More rigidity than titanium and all the comfort of steel.  This maybe the Holy Grail of bicycles.  Fully hand built one at a time we offer several custom features; standard or RS version with the 1 1/8″ x 1 1/2″ head tube.  Internal cable routing for mechanical or electronic groups, custom geometry and of course several gorgeous paint finishes.
Frameset price  $3995  Complete bike price with Campagnolo Super Record kit  $8395  call 717 560 9000for details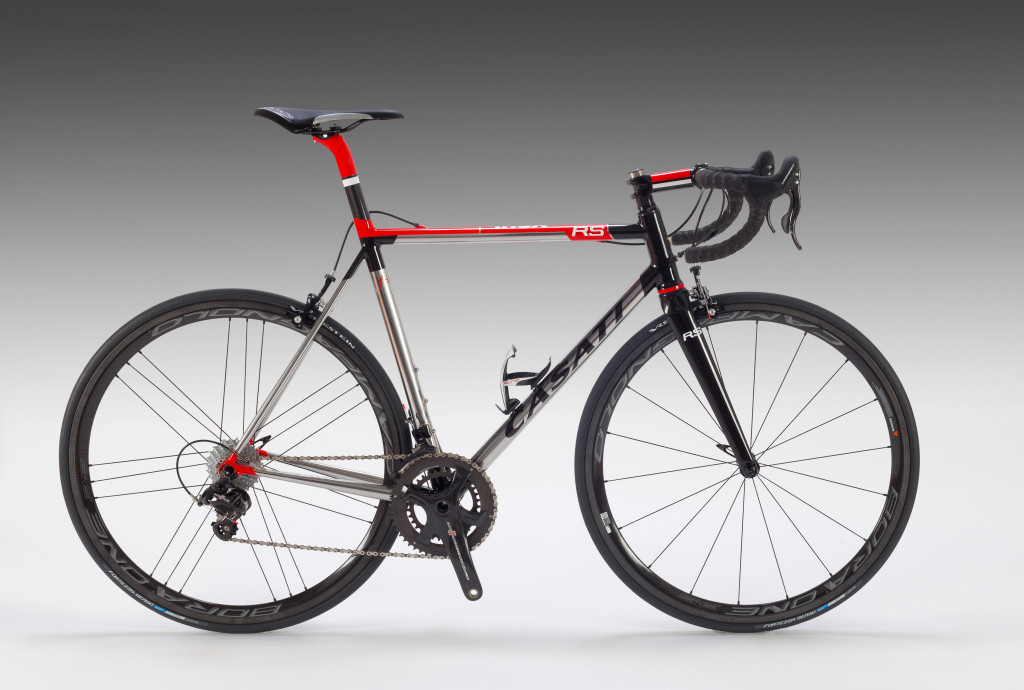 Aliena 2.0
The classic design of the Aliena with it's straight tubes and beautiful tapers is the ultralight model carbon frame.  Aliena has thin profile seat stays for a more supple ride and reduced weight but has all the muscle required for racing and high performance riding with the oversize down tube and tapered head tube 1 1/8″ x 1 1/2″.  The Aliena can be built for mechanical drivetrains or for electronic.  The carbon monocoque fork "Prescia" is made exclusive for Casati and is finely tuned to the geometry of the frame for superb handling and comfort.  Aliiena is an all around super light bicycle with the ultimate combination of lightness, comfort and performance.  You can choose from several paint schemes and colors and in matte finish or gloss.
Frameset price  $4295  Complete bike price with Campagnolo Super Record EPS kit $9995 call 717 560 9000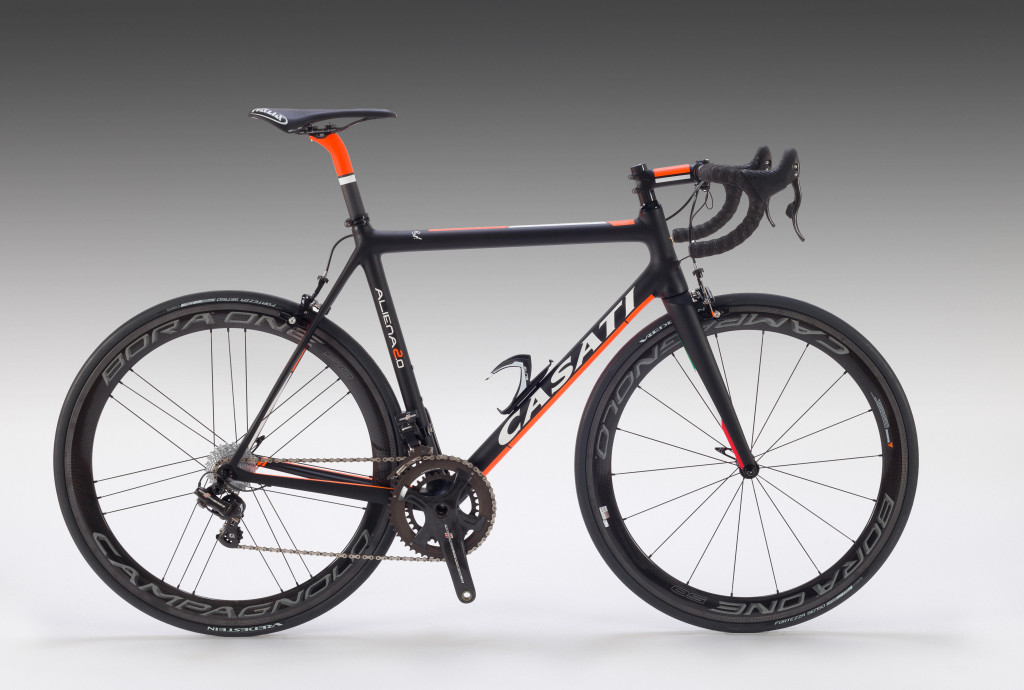 Marte 2.0
Casati modern interpretation of carbon design is the Marte 2.0.  This model uses form to create a racing frame with excellent rigidity and lightness.  Most distinctive about Marte is the cross ovalized down tube creating maximum stiffness at the bottom bracket and the head tube.  The seat stay jointure is one piece also to reduce flex and torsion flex.  Marte is a powerful frame with speed and acceleration as it's forte.  The frame has all the modern design features such as 1 1/8′ x 1 1/2″ tapered head tube, carbon drop outs, and internal cable routing available for both mechanical and electronic drivetrains.  With price of Marte is a great value.  Since buying direct from the factory you save hundreds.  Our competitors version of Marte 2.0 costs well over 5K.
Frameset Price  $3795  Complete bike price with Campagnolo Record kit  $7295  call 717 560 9000 for details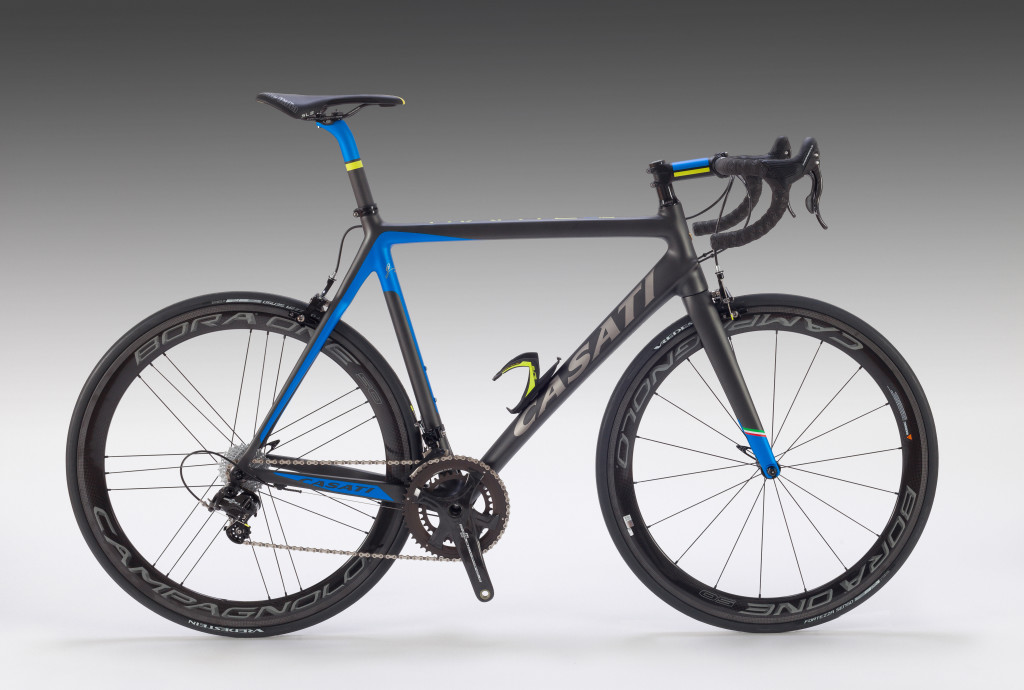 All Casati framesets include frame, fork, headset and can be built custom to your personal specifications.  We can build with Shimano, Sram or Campy groups.  Select your favorite wheels, saddle and tires.  We are happy to give you a quotation for your custom build or choose one of our stock kits.  Each bicycle is built by certified and factory trained technicians.  Call 717 560 9000 to discuss your dream Casati or e-mail to info@erapro.com