Ernesto Colnago was born in Cambiago, a small rural village twenty kilometers east of Milano on February 9, 1932. He lived with his parents, Antonio and Elvira, three brothers of Antonio, Fiorentino, Ambrogio also lived, and his grandfather Filippo. Little Ernesto had a typical childhood for the era until he was 6, when he began school and helped out with chores on the farm.
1943— Ernesto began work in the local workshop, which marked the end of his regular schooling. The workshop was owned by a certain Dante Fumagalli, to whom the Colnago family paid two kilos of flour each week for the apprenticeship of his son. Right after World War Two ended, a friend of Ernesto, found him a new direction. He found an ad that said Gloria, a Milanese bicycle factory was hiring.
1946— At 13 years old, Ernesto entered the gates of Cicli Gloria Ernesto. To start work, he had to be at least 14. He changed the date on his working papers and so was hired as an assistant welder. Young Colnago was also a good amateur cyclist: a proud and determined rider. Bright and creative, his ideas and flights of fancy were no drawback for him.
1951— Racing season. Ernesto was racing in the amateur classic Milano – Busseto. During the tight final sprint, there was a massive crash and young Colnago didn't come out well. He broke his right leg and had to spend fifty days immobilized in a crash. But Ernesto asked Mr. Focesi of Gloria to send him wheels to build at home, which was a stroke of luck. Quick and accurate at building wheels, Ernesto realized he could make more money working at home, enough to let him start working at home as a sub-contractor.
1954— Colnago went out on his own in a tiny little workshop. It was there that Ernesto Colnago started his career as a bicycle builder, the "Benvenuto Cellini" of bicycles as he was called by famous Italian sportswriter Gianni Brera. Since then, his bicycles have been used by more than 100 professional team, 2500 professional racers, who have won more than 7500 wins worldwide.
Champion riders such as the following have ridden Colnago's bikes to victory:
Early 1950's— Colnago decided to create the first cold-forged bicycle forks. After that, there were innovations like the lighest bicycle in the world (5.6 kg), with left Colnago's mark on the era when Eddy Merckx rode this bicycle to the World Hour record in Mexico City on October 25, 1972. From this project, the Colnago "Mexico" was born with its innovative helical shaped tubing.
1983— The Cambiago workshop created two authentic jewels, the aerodynamic "Oval CX" and "Master", with innovative bi-conic star shape tubing. Just when many thought Ernesto Colnago could not take bicycle design innovation further, his next brainstorm became reality.
1986— Colnago created the first frameset in carbon fibre in collaboration with Ferrari Engineering.
1987— The innovative straight-blade "Precisa" was created.
1989— The dramatic Colnago "C35" emerged, an innovative monocoque carbon fibre frame in road racing & mountain bike versions. From this experience, more innovation emerged from Colnago, like the "Carbitubo", a carbon fibre frame with two parallel downtube.
1991— The "Bititan", a lightweight frameset in Titanium.
1994— Colnago introduced the ground-breaking "C40" carbon fibre frameset for his 40th anniversary and still a reference point today. No other frame has won as much as the Colnago C40: 5X Paris-Roubaix and many World Championships.
2000— Another remarkable model emerged from Colnago's atelier: the limited edition CF1, created in collaboration with Ferrari that quickly became a major success. Next was the CF2 dual-suspension mountain bike.
2003— After ten years of success in every segment, Ernesto Colnago launched the "C50".
2004— It was the 50th Anniversary of Colnago, a brand that has become synonymous with the best bicycles the world over, synonymous with the best products Made in Italy. This new carbon fibre composite frame quickly found success in both the competition and sales arena. for the official anniversary of Colnago, a special collectors item bicycle was created, the "50th Anniversary".
2008— Key innovations include the introduction of a semi-integrated headset (C-HS) on the CX-1 Carbon and EPS Carbon models. For 2008, look for extremely lightweight and high-performance models that are capable of winning the most important races in the world.
After five decades of innovation and experience, Ernesto Colnago continues to dream about and create bicycles appreciated by riders passionate about cycling all over the world. Don't ask Colnago which of his bicycles is the best: his answer is always the same. "I've made a lot of bicycles, but the most beautiful is the one that is yet to come."
Today Colnago still innovates with new models like C 59 and M10.  Colnago cyclocross and pista bikes bring performance and style to these important cycling endeavors and the new complete bicycles AC-R and CLX make Colnago an important choice for cyclists looking for value in lower price Italian racing bikes.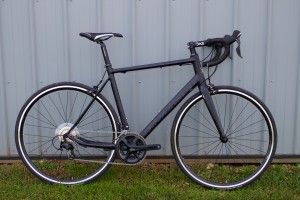 Colnago CX Zero Alu with Shimano 105 kit for ONLY $1149.95!!!
Why buy a Trek when you can have Colnago 105 bike for less than $1150
If you'd like to invest in one of these premiere Colnago bikes, visit our Contact Us page or contact us directly at (717) 560-9000.
Colnago Bargain Bike
An incredible value on this Colnago race bike CRS frame built with Campy Chorus group, Fulcrum Racing O wheels, Deda carbon cockpit, Fizik and Continental. This incredible package for $4995. Includes professional fitting.